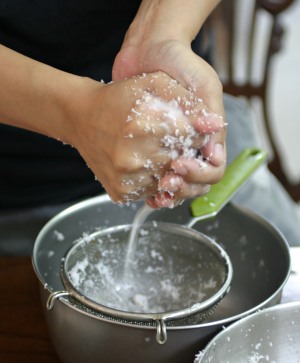 This is a project by a farang living in Thailand named Cee Webster, and every Thai she can rope into helping, including her faen, her faen's family, friends, street vendors, market sellers, etc.
Cee first came to Thailand for six months in the fall of 2001 to escape her smoky apartment in Greenwich Village, Manhattan. She came because of the food and recommendations by friends. Upon realizing that the food she loved back in New York wasn't real Thai food, she then spent years learning what is.
Cee took many cooking classes and fun trips to markets, and ate at a lot of local restaurants (if you see a lot of Thais, it's probably good!) on various trips back to Thailand. She spent the next four years trying to re-create authentic dishes in her NYC apartment, with weekly treks to Chinatown fighting old ladies to pick up the ingredients.
She moved to Thailand full time in 2005 and has been living with a Thai family and learning daily the tricks on how to create authentic Thai food. In her free time she enjoys learning to speak and read Thai, traveling around the region, and taking photographs.
If you are interested in contributing or helping, please let us know! It's been a fun project so far.