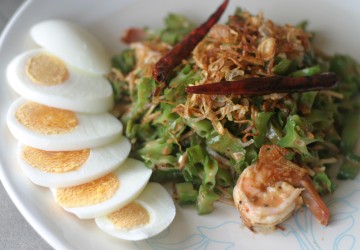 Wing Bean Salad (yum tua pu – ยำถั่วพู) is a central Thai dish featuring "wing beans" which are blanched and tossed with coconut milk, roasted chili paste, toasted coconut, tamarind, palm sugar and peanuts. If you can't get wing beans where you are, they can be substituted with green beans or snap peas.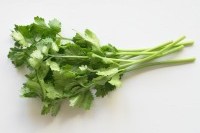 Americans call this herb by it's Spanish name, Cilantro, while the English call it Coriander. It's the same herb. Coriander has a very strong smell and taste, and I've found people either really love or hate it. The leaves are commonly used to garnish soups, and the roots are used in a lot of dishes. Thais use the seeds as well for some curry pastes.
Storage: Store coriander in a glass filled with water inside the fridge. If stored this way, it should last 2 weeks or so. If it comes with a rubber band or twist tie around it, remove that first for longer shelf life.