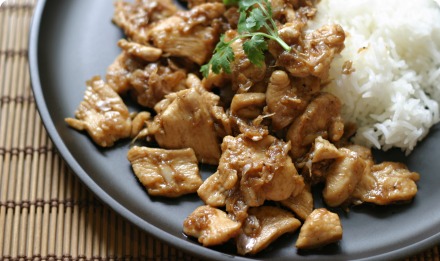 Garlic and Pepper Chicken
Garlic and Pepper Chicken (gai pad gratiem prik thai) is a very common dish. You can use any meat — pork, beef, shrimp, squid, etc. You can even make a vegetarian one with tofu. It's a very easy and quick dish to make. It's commonly eaten as a one-dish meal over rice, but it can be added to a family-style meal. If sharing – serve it on a regular plate – not over rice.
Ingredients
Directions
Rinse and cut the chicken into bite-sized pieces (see picture).
Smash the garlic lightly with the side of a knife. Remove the skin if not using thin-skinned Thai garlic.
Heat the oil in a pan until very hot. Add the garlic and keep stirring so it doesn't burn.
When (very) lightly browned, add the chicken (or meat, or whatever you're using!). Cook until done (not raw). If it gets dry and sticky, add some water to the pan about 1-2 tablespoons at a time.
Add the palm sugar, fish sauce and pepper. You may need to add a bit more water here so that it mixes well.
Mix well and serve on rice (for a one-dish meal), or in a plate (to share with friends). Garnish with cilantro.
Note:
If making a vegetarian version - pre-fry the tofu first until browned, remove, then start with step 2. Substitute the fish sauce for :white soy sauce:.
Real Thai Recipes
4:52 pm