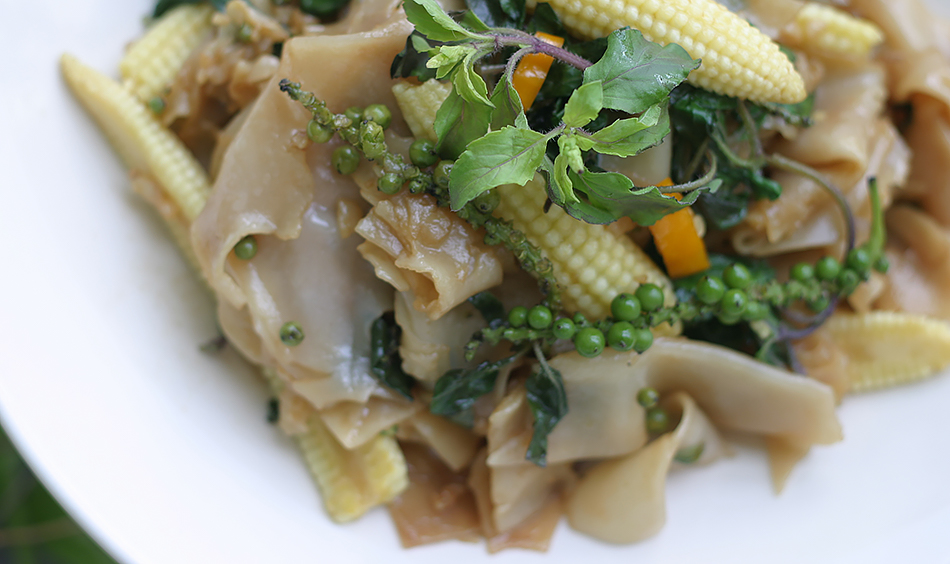 Drunken Noodles
Pad Kee Mao is a versatile dish. It can be made with noodles, spaghetti, without noodles and served on rice, with seafood… you name it. Essentially you can make anything 'kee mao' by including a lot of chilies, fresh peppercorns & holy basil. In Thai, 'pad' means to stir-fry, and 'kee mao' means someone who likes to drink too much. 'Kee' literally means 'shit', and adding 'kee' in front of any verb means it's a bad habit. 'Mao' means drunk. So, a 'Kee Mao' (shit drunk) is someone who has a bad habit of drinking! What this has to do with this dish, I'm not 100% sure. I've heard that this is a common drinking food, and also that it's a good cure for a hangover. Your guess is as good as mine.
Ingredients
Directions
Separate the noodles by peeling them apart one at a time. Set aside.
Prepare your ingredients: Slice the baby corns into 1/2 lengthwise. Crush the garlic and chilies, and set aside. Pick off the leaves & flowers of the basil, and set aside. Chop the large chili into rings.
If you're using tofu, pre-fry it in hot oil until browned. Set aside.
Add the oil to a pan, and heat on high until it's dancing around. Then add the garlic, chilies and green peppercorns. Keep stirring so it doesn't burn.
When the garlic turns light brown, add the veggies & meat/seafood if adding. Keep stirring and cook until finished, about a minute. You may need to add a few tablespoons of water to help things not stick.
Add the tofu (if adding), then the noodles. You may need to add a bit more water if the pan gets too dry. Don't add a lot, or the noodles will get mushy.
After frying for a minute or two, add the soy sauces, sugar and oyster sauce. Stir well to mix.
Add the basil & vinegar. Stir to mix. When the basil is wilted it's done.
Note:
It's common in Thailand to eat this with spaghetti (yes, from Italy) which has been pre-boiled for a few minutes to just before al-dente. You can leave the noodles out all together (you might need to lower the amount of sauces and spices) and serve with rice.
Tofu can be substituted with bite-sized sliced pieces of seafood (mussels, clams, white-meat fish, shrimp or squid), chicken, pork or beef. Throw it in before you add the vegetables.
You can add chinese cabbage, carrots, white onion or thai rice mushrooms instead or in addition to the baby corn. It's up to you!
If you cannot find fresh peppercorns, substitute with 1/4 - 1/2 teaspoon of white pepper powder. Add it at the end when you add the vinegar.
In the US, when I ordered this dish, it usually came out with a lot of sauce, not quite that spicy, with the wrong basil, no fresh peppercorns

and bell peppers in place of thai chilies. This version here is authentic, using the correct basil (holy basil - 'bai ga-prao') and orange chilies instead of bell peppers. I would totally NOT recommend using bell peppers in this dish. The flavor is really strong and overpowering, and not 'Thai' at all. A lot of cooks outside Thailand substitute spicy chilies (prik chee faa, prik leung, prik kee nuu, etc) with bell peppers. Better to leave them out! You can, however, substitute the orange chili with jalepenos, if that's all you have.
Thais season their noodle dishes at the table with a 'kreung brung' — a small seasoning container which contains a separate cup each of chili powder, vinegar (with pickled chilies), fish sauce (with yet more chilies) and sugar. You then season your noodles to your liking. I added vinegar to this recipe, to make it easier. Normally you wouldn't add vinegar in the wok, you would season at the table.
Real Thai Recipes
5:10 pm