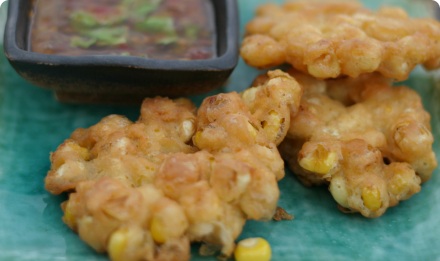 Fried Corn Cakes
Fried Corn Cakes, or 'Khao Pod Tod' are sometimes served in restaurants, but mostly seen as street food. They are eaten with a sweet and sour dipping sauce, and are very easy to make.
Ingredients
1 cup sweet corn kernels
1/4 cup flour (japanese tempura flour or regular wheat flour)
1 egg
1/4 teaspoon salt
1/4 teaspoon white pepper powder
about 1/2″ of oil in the pan, for frying
Sauce
Directions
Remove the kernels of corn from the cob. The best way to do it is to remove by hand, peeling in a downward motion, one at a time. This preserves the whole kernel, and leaves them juicy and flavorful when you bite into them. If you're lazy, you can use a knife and slice them off. Or even lazier, just get frozen corn. Whole kernels do taste better, however, and don't explode when you fry them.
In a bowl, add the corn, flour, egg, salt and pepper. Mix well.
Drop by rounded spoonful (and smush a bit once in the pan to flatten) into hot oil. Cook on medium-high heat until golden brown, flipping once. It should take about one minute per side.
Serve with sauce.
Note:
Drying these corn cakes on a cookie cooling rack preserves the crispiness, whereas paper towels make them soggy.
Real Thai Recipes
9:40 pm