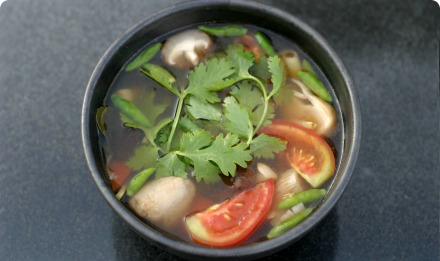 Clear Mushroom Lemongrass Soup
Vegetarian Mushroom Lemongrass Soup, or Tom Yum (tom yum het mangsawirat, ????????????????????) is a vegetarian version of Thailand's most popular soup. Tom Yum is very spicy and sour, and usually served scalding hot in a hotpot with a fire underneath. There are many different variations… This one is a clear vegetarian version with mushrooms and tomato.
Ingredients
Directions
Add the water to a sauce pan. Crush the lemongrass and cilantro root in a stone mortar and pestle or with the butt of a knife, then add them to the water. Tear the lime leaves to release flavor, and throw them in too along with the galangal.
Turn on your heat to medium high, and bring to a boil. Boil your herbs for about 5 minutes or so, to release the flavors. The color of the water should be a light green when you're finished.
Add the mushrooms, chilies and knorr cube. Boil for 2-3 more minutes, until mushrooms are soft.
Add the sliced tomato, and cook until soft, probably less than a minute.
Turn off the heat. Add your soy sauce, sugar, and at the very end the lime juice. Taste to make sure the flavor is right… It should be very sour & spicy. You may need to add more lime juice depending on how sour your limes are.
Transfer to a bowl and garnish with cilantro.
Note:
You don't eat the galangal, lime leaves, lemongrass or coriander root, so you may want to fish them out of the soup before you serve it to your guests. Also, lime juice loses it's sourness when boiled, which is why you add it at the very end, after turning off the heat. You should serve the soup right away. Both chicken or seafood can be substituted for mushrooms, if preferred.
If you're looking for a recipe for Tom Yum Goong - Tom Yum with Shrimp - try this recipe: tom yum goong recipe.
Real Thai Recipes
4:21 am