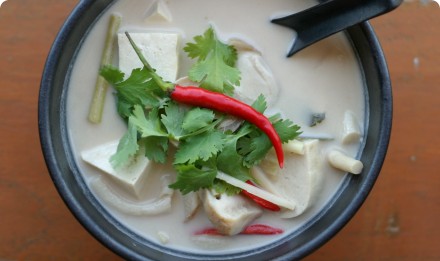 Mushroom Coconut Milk Soup
Tom Khaa is probably Thailand's second most famous soup, after Tom Yum. It's spicy and tangy but also very creamy due to the coconut milk. Here's a vegetarian version made with mushrooms instead of chicken or fish.
Ingredients
Directions
Bring water to a boil. Add galangal, lemongrass, lime leaves and knorr cube. Boil for 5 minutes or so, until flavor comes out. You will need to boil longer if your herbs are not so fresh, and you also may need to increase the amount.
Add the chilies, tofu, mushrooms & coconut milk, and cook for a minute or two. Be careful not to cook for too long, just until mushrooms are finished.
Turn off the heat. Add the soy sauce & lime juice, then garnish with cilantro.
Note:
You don't eat the galangal, lime leaves or lemongrass, so you may want to fish them out of the soup before you serve it to your guests. Also, lime juice loses it's sourness when boiled, which is why you add it at the very end, after turning off the heat. You should serve the soup right away. Both chicken or seafood can be substituted for mushrooms, if preferred.
Real Thai Recipes
12:28 am