Vegetarian Festival
It's the annual Vegetarian (Jae) Festival here in Thailand when thousands of people don't eat meat for 9 days. But it's not only refraining from meat — no garlic, shallots, onions, scallions, eggs, milk or cheese. But don't worry, you can still eat chilies!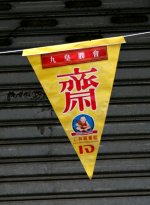 Today is the 7th day of the Vegetarian festival here in Thailand. Every year on the 1-9th of the 9th Lunar month, Chinese Thais celebrate whats called 'Tesagan Kin Pak' or 'Tesagan Jae' — the Vegetarian Festival. Many Chinese-Thais and Thais will go without eating meat of any kind, as well as no strong-smelling herbs such as garlic, onions, etc. Essentially, it's a bland vegan style of eating. Although eating chilies, pepper, ginger, galangal and basil is somehow fine – don't ask me why.
History
People in Thailand started this tradition about 150 years ago on the island of Phuket (pronounced poo-get). Phuket was originally settled by Chinese. The story goes that one year, during this time, many of the Chinese immigrants fell sick. They decided to follow an old Chinese tradition of worshiping the Nine Emperor Gods (A Chinese legend about 9 emperors who forbid killing to stop their war). The story goes that after they worshiped these gods, the epidemic stopped. It's been celebrated in Phuket ever since.
150 years later, it's spread throughout the country, but the best places to be are Phuket and Bangkok, where hundreds of food vendors and restaurants replace their typical fare with vegan food. Phuket has street parades where hundreds of worshipers carry statues of the gods and pierce their cheeks with knives — apparently the gods take away the pain! If you are vegetarian, the best time to come to Thailand is during the Jae festival. Look for yellow flags or signs with a red Chinese character and the word jae: ??. You pronounce jae like the letter 'J'.
How To Celebrate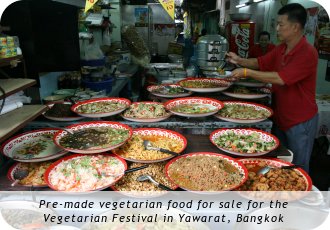 It's not just eating vegetarian. People who celebrate this festival don't eat meat, eggs, fish or fish products. No milk, cheese or dairy. No garlic, onions, shallots, scallions and the like… no cilantro. Nothing which has much flavor really. Strict people will either clean their house/kitchen or use separate utensils for this festival.
You are also supposed to keep your body clean, dress in white, refrain from liquor, tobacco and sex. And no cheating and lying either! Essentially it's a 9 day period to clean yourself of bad things, inside and out.
Real Thai Recipes
11:13 am