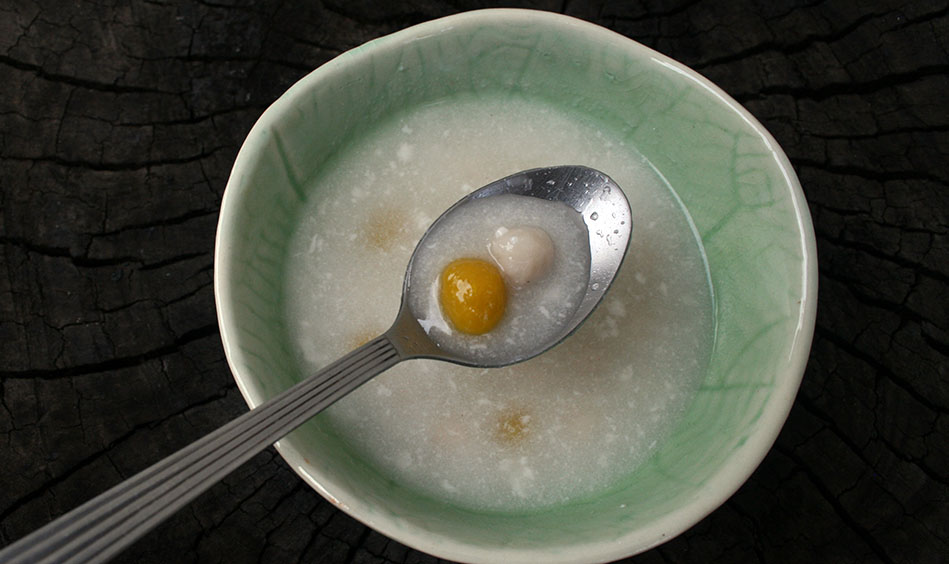 Floating Lotus
Bua Loi is a popular Thai sweet which has been around for quite a long time. I'm not certain exactly how old, perhaps as much as 500 years. Bua Loi means 'floating lotus' which could have it's roots in Thai Buddhism — a lotus represents enlightenment. It is said that the lotus makes it way through the muck of existence (the pond) and finds the surface and creates a beautiful flower. The name could also have come from the seeds of a lotus, as the balls are around the same size. The balls are usually made from taro, pumpkin and pandan.
Ingredients
Directions
Steam the pumpkin and taro until soft, between 10-15 minutes.
Mash the pumpkin, then mix equal parts pumpkin and sticky rice flour together until a uniform paste. Do the same to the taro (separately).
Roll into small 1/4″ – 1/2″ balls and set aside.
Boil the balls in hot water until they float. Remove with a slotted spoon and put into a bath of room temp water.
Boil the coconut milk with the water, sugar and salt. Add the balls and serve.
Note:
If you can't find taro or Thai pumpkin, we figure you can try experimenting with any root-like vegetable, for example: potato, sweet potato, carrot, etc.
If you can't find fresh or frozen pandan leaves, look for essence of pandan (like vanilla extract) in small glass bottles. I've seen that in a few Asian groceries. Add a few drops to plain water and it should do the trick.
If you can find fresh or frozen pandan leaves, make the water by boiling about 20 leaves in the water until green, about 10 minutes.
The un-cooked dough freezes well, so if you feel like making a lot and freezing the dough for cooking later, go for it.
A great trick with this recipe is to use a small plastic bag over your hand when you kneed the dough. Then, when it's finished, grab the dough in your hand and invert the bag. You can leave the dough in the bag so it doesn't dry while you roll out the balls, and you leave your hands clean.
Real Thai Recipes
2:47 pm