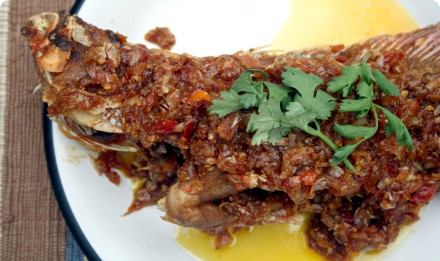 Fried Fish with Chili Sauce
Plaa Raad Prik (pla rad prik) is a whole fish, fried until crispy and then covered with a sweet spicy sauce made from garlic, palm sugar and chilies. This is usually part of a larger meal. You can pair this with a curry or soup and a few vegetable dishes for balance. This recipe is a home style recipe, it'll taste different (better) than the ones you get at restaurants. Most restaurants use pre-made sweet sauce and alter it a bit.
Ingredients
Directions
Smash the garlic cloves slightly in a stone mortar and pestle, or with the back of a knife. If not using thin-skinned Thai garlic, remove the skins. Add the chilies and smash. Do not smash to a paste.
Combine the tamarind with the hot water and squish it with your fingers to create a paste. Strain and set aside.
Clean the guts out of the fish and remove the scales. Wash and pat dry. Rub the fish with the salt, then make 3-4 deep slices into both sides of the fish.
Deep fry on medium heat until crispy and golden brown, about 5 minutes per side. Set the fish aside on a rack or plate. Remove the oil from the wok, but reserve it to use in the sauce.
Add 1/2 cup of the used oil back to the pan. Fry the garlic and chilies until fragrant on medium or medium-low heat. Keep stirring at all times to prevent the garlic from burning. The garlic should not be brown and crispy, only slightly browned and still soft. If you overcook it, ditch it and start a new one.
When the garlic is fragrant, add the tamarind water, palm sugar and fish sauce. Bring the heat up and boil for about 1-2 minutes, stirring well.
Pour the sauce over the fish and garnish with a few sprigs of coriander.
Note:
You can use any white meat (non-fishy) fish for this recipe.
If you have issues with eating a whole fish, you can use fish fillets. Just make sure they're thick enough as to be soft & meaty inside after frying.
Thai garlic is very thin skinned, so in dishes such as this the skin is usually thrown in. If using the large white garlic found in the US, take the skin off first.
You can make a vegetarian version by frying tofu and covering with the sauce. Replace the fish sauce with about 1/2 teaspoon salt.
Real Thai Recipes
6:36 pm