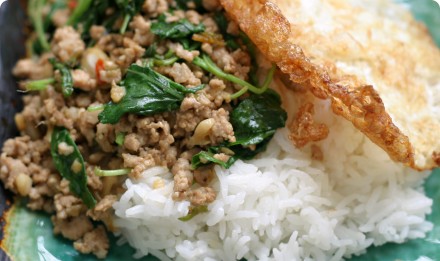 Stir Fried Pork with Holy Basil
Pad Ga-prao (Pad Ga-praw) is one of the most common dishes in Thailand. It's usually served as a one-dish meal, a quick meal eaten over rice, and is usually topped with a fried egg. This recipe is for a 'one-dish meal' sized portion. If you plan on making this as a dish to serve with others for a shared meal, double the recipe. Unfortunately, it's hard to get Holy Basil outside of Thailand, so most restaurants in the West substitute with Thai Basil, which isn't as good in this dish. Pad Ga-prao can be made with ground or sliced chicken, beef or pork using this same recipe. You can even use pre-fried tofu. Serve with a sliced chili in a bowl with a teaspoon of fish sauce.
Ingredients
Directions
Smash chilies with a stone mortar and pestle if you have one, or use the side or back of a knife. Smash garlic, and set aside with the chilies.
Clean basil by picking off the leaves and flowers, and discarding the stems. Rinse and set aside.
Heat the oil in a pan until very hot on high heat. Throw in the chilies & garlic, and stir until browned. You should sneeze from the chili. (You may want to open a window.)
When the garlic is ready, add the pork. Break it up in the pan with your spatula, to make sure it cooks evenly. Fry until no longer red.
Add sugar, soy sauce & fish sauce. Stir and let absorb.
When dry, add the water and the basil leaves. Stir until basil is wilted, and serve on rice.
If you want to top with a fried egg, add a bit more oil in the pan, and allow the oil to get very hot. Crack an egg in the middle. If it's hot enough the egg will bubble up and sizzle. When browned on the edges, flip and wait until browned on the other side. Remove and place on top of the rice.
Real Thai Recipes
3:15 pm