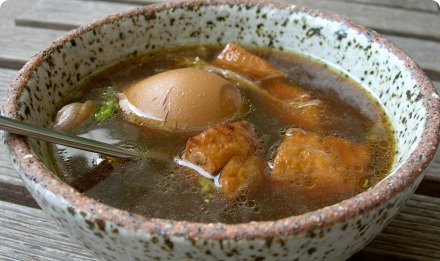 Five Spice Tofu
Five Spice Tofu originates in China, and was introduced by the Chinese to the local cuisine. It's been adapted to fit the taste here by adding a lot of peppercorns and palm sugar.
Ingredients
Directions
Boil the eggs until cooked, about 10 minutes. (Starting with cold water will prevent cracking.) Carefully take off the shells and set aside.
Cut the tofu into 1.5″ cubes, and fry on high heat until browned on all sides. Set aside.
In a wok on medium heat, fry the peppercorns, cinnamon, star anise & palm sugar in the oil for 1-2 minutes until fragrant.
Add the garlic and cook until the garlic turns medium brown.
Add cilantro root & cook for 2 minutes. If it's too sticky, add a bit more oil.
Add the pre-fried tofu, eggs, water, soy sauces and knorr cubes.
Simmer on low, covered, for 1-2 hours.
Note:
If you will be storing leftovers in the fridge, fish out the cinnamon & star anise before storing. They will continue to add flavor to the dish, and if left for too long they will overpower the flavor!
Real Thai Recipes
5:15 pm