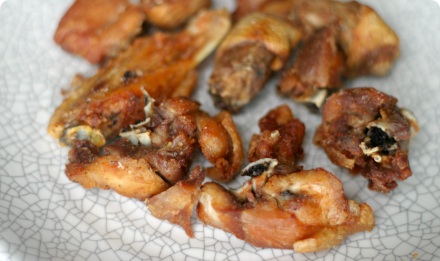 Fried Chicken with Salt
Fried Chicken with Salt (gai tod gleua) is a very easy snack dish which goes great with beer! Boiling the chicken first makes it juicy and tender.
Ingredients
Directions
Rinse and boil the chicken for about 15-20 minutes. Drain and set aside to cool.
Cut the chicken into pieces, larger than bite-size (about 1.5-2.5″ long).
Fry in the oil on medium-high heat. Make sure the oil is hot before you drop the chicken in. It'll probably splatter a lot, so you might want to use one of those splatter screens.
Remove the fried chicken and drain. Place into a pot with the salt. Cover with a lid and shake hard to cover the chicken well with the salt.
Serve. Goes well with beer!
Note:
This recipe is similar to Fried Chicken with Lemongrass, but using salt instead. Both are common beer or snack foods, usually shared with friends.
Real Thai Recipes
4:13 pm