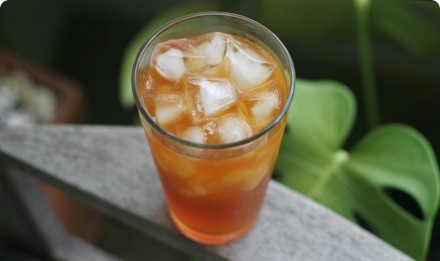 Lime Iced Tea
Lime Iced Tea is a refreshing drink on a hot day. A great alternative to the more common milky Thai Iced Tea.
Ingredients
1 cup boiling hot water
1 black tea bag, or 1 tablespoon Thai orange tea powder
3 tablespoons white sugar
2 tablespoons fresh lime juice
1 cup ice cubes
Directions
Boil the water, and add to a heat-proof mug along with the teabag and the sugar.
Let steep for a few minutes, depending on the tea variety used. Throw out the teabag, and stir to dissolve sugar.
Add the ice and lime juice to a pint-sized glass, and then pour the tea over the ice.
Stir and enjoy!
Note:
If using Thai-style orange powder tea, strain in a :tea sock: before pouring over ice.
Real Thai Recipes
6:18 pm