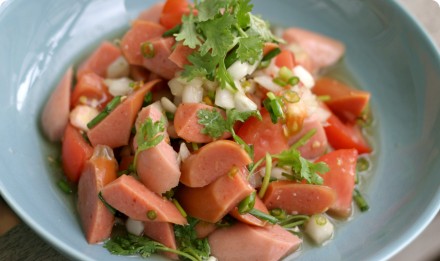 Sausage and Tomato Salad
Yum Sai Grawk (also spelled yum sai grok) is an easy dish to make, especially great for when you're home alone and want to make something easy and fast. Much better than eating a hot dog on a bun. Great for a cookout too!
Ingredients
Directions
Cook the sausages or hot dogs in boiling water for a few minutes.
Slice on an angle, and rotate 1/4 way each cut, like shown in picture.
Prepare all your other ingredients.
Mix together in a bowl and serve.
Note:
Hot dogs, chorizo, german sausages, Thai northern or Issan sausages all work fine. This recipe works for grilled sausages too, so think of it at your next cookout.
Real Thai Recipes
2:06 pm