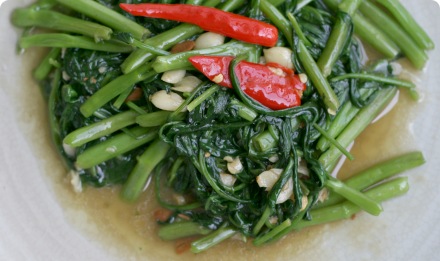 Stir Fried Water Spinach
An essential dish, both in homestyle cooking and at restaurants. Pak Boong is a very common vegetable in Thailand, as well as other South East Asian countries. To cook something "Fai Daeng" means over a really hot fire. Fai means fire, and Daeng means red, so your heat must be all the way up!
Ingredients
Directions
Lightly smash the chilies. Smash the garlic and remove the skin. Set aside. Wash the water spinach and shake it dry. Prepare the vegetable by breaking off the leaves at the base, and then breaking the stems with your hands at about 1.5″ intervals. Leave the top last part of stem intact with the top 2 leaves on. See picture to the right for an example.
Heat your wok to HIGH HIGH HIGH. If your pan is not hot, the vegetables will die a slow death and taste terrible. If you're using an electric stove, leave the stove on high for about 3-5 minutes with the pan full of oil sitting on top. This should get it as hot as it's supposed to be. You want almost smoking oil, where the oil is dancing around in the pan.
Throw the garlic in, stir quickly until it just starts to turn light brown. If your pan is hot enough, this should be less than 10 seconds. Then throw the vegetable in with the chilies. It should sizzle like crazy. Flip the vegetables and spread out a few times to make sure they evenly cook. Then add the water, bean sauce & oyster sauce, and stir for maybe 1 more minute, until the vegetable is finished. They're done when the leaves are dark green and wilted and the stem is medium green. Don't overcook, or they'll taste bad.
Note:
This dish is very easy to make vegetarian by using vegetarian oyster sauce instead of regular oyster sauce. There are a few different brands of vegetarian oyster sauce, made from mushrooms instead of oysters. Sometimes the label says 'vegetarian stir fry sauce'.
Real Thai Recipes
10:48 pm