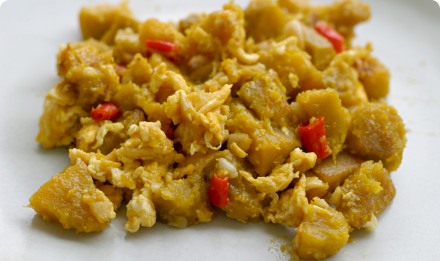 Thai Pumpkin with Egg
Stir-fried Thai pumpkin with egg is an easy, tasty dish which goes well with many things. It's great eaten with rice or rice soup.
Ingredients
Directions
Cut off the outer skin and inner bits and seeds of the pumpkin. Cut the rest into bite-size pieces and set aside. Chop the garlic & chilies too.
Heat your pan to medium-high with the oil, and fry the garlic until lightly browned and fragrant. Add the chilies and cook for about 10-20 seconds more.
Add the pumpkin and water, and cover the pan with a lid. Cook for about 5 minutes until cooked through (can cut easily).
When the pumpkin is finished cooking, remove the lid and let the remaining water dry up.
When dry, add the sugar and stir. Make a little room to crack the egg, scramble it in the pan first, let it solidify, then coat the pumpkin. Add the soy sauce. Mix well.
Note:
Do not substitute Thai pumpkin with the jack-o-lantern/pumpkin pie variety. You can try Japanese pumpkin if you cannot get Thai.
Real Thai Recipes
10:42 pm