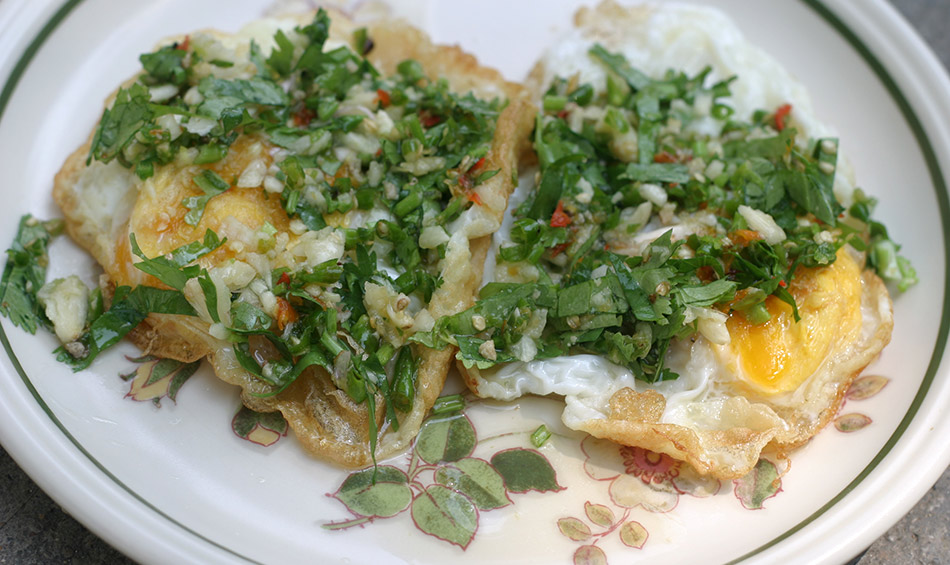 Fried Egg Salad
Fried Egg Salad (yum khai dao – ????????) is a Thai "yum" using crispy fried eggs. There are generally two varieties of this dish – one with coriander and garlic, and the other with Chinese celery and onions. This recipe is for the coriander and garlic version.
Ingredients
2 eggs
1 teaspoon fish sauce
1 1/2 teaspoon white sugar
2 1/2 teaspoons fresh lime juice
1 tablespoon small thai chilies, finely chopped
1 tablespoon garlic, finely chopped
1 tablespoon coriander leaves & stems, finely chopped
enough oil to partially submerge the eggs while frying – about 1/3 cup
1/4 cube knorr mushroom soup base *optional
Directions
Mix the fish sauce, sugar, soup base and lime juice well in a bowl.
Chop the garlic, chilies and coriander fine.
Fry the eggs in a very hot pan with a good deal of oil until crispy, about 1 minute. It helps to ladle the oil over the top of the egg to cook both sides at the same time. Set aside and allow to cool a bit.
Put the eggs in a plate and cut into quarters. Mix the garlic, chilies and coriander together into the sauce.
When ready to eat, pour the sauce over the eggs. Don't let it sit long or the eggs will get soggy.
Note:
Vegetarians (who eat eggs anyway) - this dish can easily be made vegetarian by substituting the fish sauce for 1/4 teaspoon salt and 1/4 teaspoon :white soy sauce:. If you don't use the mushroom soup base, double that amount of salt.
You can use either chicken or duck eggs, whatever you prefer.
Real Thai Recipes
10:32 pm