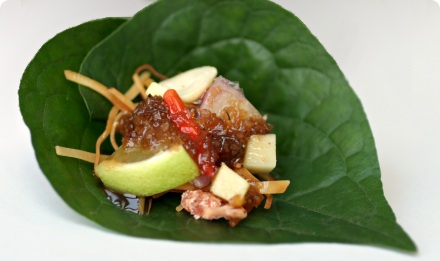 Leaf Wrapped Snack
Mieng Kham is a great, easy to make (albeit a bit time-consuming) appetizer or snack. It's fun to eat and healthy too! This is an excellent dish to serve at a party.
Ingredients
Sauce
Directions
Dry roast the coconut in a wok on medium high, stirring constantly to avoid burning. Cook until the coconut is medium brown, about 5 minutes. Set aside the amount used for the sauce, and put the rest into a serving bowl.
Cut up all the ingredients which are not to be put into the sauce into small 1/4″ pieces. Arrange in small bowls, or in piles on a plate.
Now, for the sauce… In a stone mortar and pestle, pound together the shallots and galangal until fine. Set aside.
In a small sauce pan, add the water, fish sauce, palm sugar & shallot/galangal mixture.
Boil over medium heat to reduce the sauce to the thickness shown in the picture below. You're going to boil off about 1/2 the liquid. Make sure to keep stirring every now and then.
Add the roasted coconut, remove from heat, and put into a small bowl.
To eat… Take a leaf and fold the bottom to make a pouch (see large pic above). Put a large pinch of roasted coconut in first, then follow with a piece or two of everything else from the serving bowls: shallots, lime, ginger, peanuts, shrimp and a chili if desired. There is no 'proper' order to put them in. Then, add a bit of sauce on top, roll the leaf to make a packet, and eat in one bite. Eating Mieng Kam is like a taste explosion.
Note:
In Thailand, Mieng Kham is usually served with :betel leaves:. These may be next to impossible to find outside of Asia. Instead, we recommend lettuce, :chinese broccoli:, or a similar broad leaf vegetable. You can find pre-shredded coconut in the baking section of the grocery store, if you don't feel like shredding fresh coconut. But make sure you buy it unsweetened.
Real Thai Recipes
8:37 am