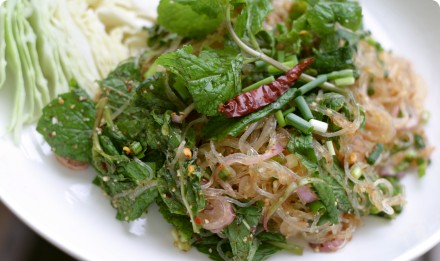 Northeastern Glass Noodle Salad
Laap (larb, laab) is a Northeastern (Issan) and Lao dish which, like som tum, is popular all over the country. It usually consists of cooked ground meat which is tossed with lime juice, chili powder, fish sauce & toasted rice powder, along with long coriander and mint. Here's a version made with glass noodles instead of meat. You can substitute fish sauce for the soy sauce to make a non-vegetarian version.
Ingredients
Directions
Toast the raw rice for a few minutes on medium-high until golden brown. Keep flipping them every few seconds so they don't burn.
Pound the toasted rice in a stone mortar and pestle until powdered (see pic).
Toast the chili powder for a minute or two on medium-high until slightly darker and fragrant. Stir constantly. This can be quite dangerous if left forgotten on the stove — the smoke which is produced is quite spicy and can hurt your nose & lungs if left for too long!
Slice the shallots into thin rounds. Slice the scallions into 1/2″ (2cm) long pieces. Cut the long coriander into tiny pieces. Tear off the leaves of the mint and wash well. Set aside.
Soak the noodles for about 10 minutes until soft. Boil the water in a saucepan and cook the noodles for about 10 seconds. Remove and put into a bowl.
Add the chili powder, sugar, lime juice, toasted rice powder, fish sauce (or soy sauce), mint, scallions, shallots and long coriander to the bowl. Stir well.
Serve with a wedge or Chinese cabbage. You can top with small dried chilies too, if you want.
Note:
Really do be careful with the toasting of chili powder. Once Jett and I were cooking and we left it on the oven for about 2 minutes un-attended. We came back and moved the pan out of the way, and a puff of black smoke came out which was so toxic it hurt my eyes, lungs, nose, everything. We had to leave the room until it aired out. Even the cats ran away.
Laap can be eaten warm or room temperature, but should be eaten right away otherwise it won't taste good.
If you cannot find long coriander, you can substitute with regular coriander
If you are using fish sauce instead, you may need to use less than the amount of soy sauce used. Try adding a little at a time until it tastes good.
Real Thai Recipes
11:19 am