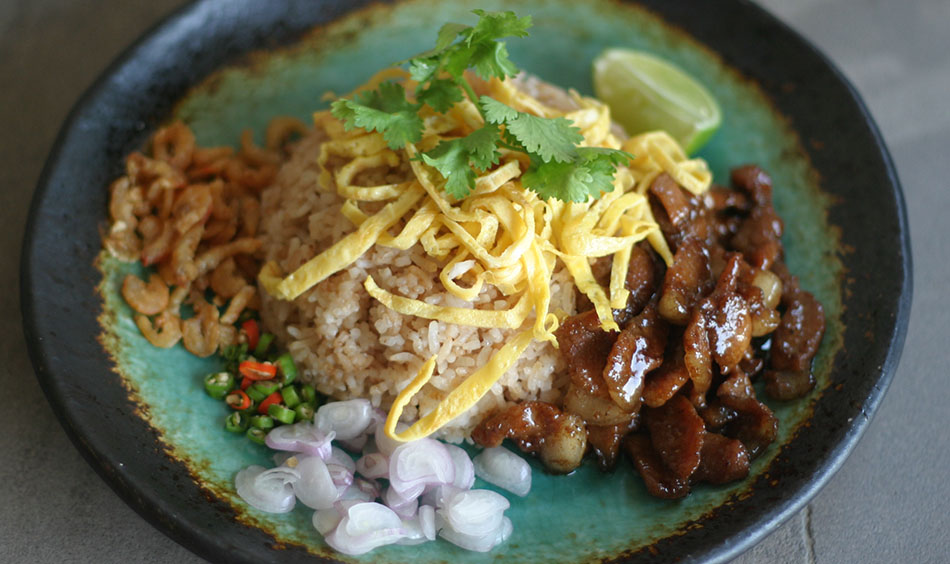 Shrimp Paste Rice
Shrimp Paste Rice (khao kluk gapi – ????????????) is rice which is flavored with shrimp paste. The flavor of shrimp paste is strong, and is complimented by the sour mango, sweet pork, chilies, shallots and fried shrimp. This dish is packed with flavor — sweet, salty, spicy, sour and pungent. This is a one-dish meal, something to eat when alone or for lunch.
Ingredients
Directions
The first step is to make the sweet pork (muu waan/???????). Slice the pork thin (1 1/2″ x 1″ x 1/3″) (4cm x 2.5cm x 1cm) – see picture. Fry it in about 1 teaspoon of oil on high heat. Add the fish sauce, soy sauce, pepper, and palm sugar. Cook until it's no longer raw. Lower the heat to medium low. Keep adding a little water every now and then to keep it from getting to dry and burning. Cook for about 10 minutes until shiny and sticky. Set aside.
The next step is to make the egg strips. Crack one egg in a bowl and whisk until mixed. Wet a tissue with oil and wipe the inside of the pan. You don't want a lot of oil for this one. A non-stick pan comes in handy for this kind of thing. Pour the egg in and tilt the pan so the egg evenly coats the bottom of the pan, about 1/8″ (.25cm) deep. Fry on medium heat until set and golden (not brown). Flip once. Take off heat and allow to cool. Roll the egg and slice thin to create strips. Set aside.
Fry the shrimp in oil until crispy, about 30 seconds on medium-high. Strain and set aside.
Slice your chilies & shallots thin. Peel the mango's skin and chop with a knife to make thin strips (or use a cheese grater).
Add a little oil (about a teaspoon) into your pan and turn the heat up to medium-high. When the pan is hot, add the rice, shrimp paste and fish sauce. Stir well to mix. Cook until the rice is warmed up and mixed well.
This dish is usually served by packing the rice into a bowl, and using it as a mold. Turn it upside-down onto a plate and remove. Then add all the other things around the rice on the plate, with the egg on top of the rice. Garnish with cilantro.
When you eat it, mix it all together and squeeze the fresh lime juice on top.
Note:
The quality of your shrimp paste will make or break this dish. If you make it and don't like it, it's likely due to the shrimp paste quality. It's extremely hard to get quality shrimp paste outside Thailand. Look for paste which is purpleish in color and not too dark. It shouldn't be dark brown or black. It should smell... off... but not horrible. Shrimp paste which comes from Rayong or Koh Chang is especially good.
Green mango is unripe and very sour. We forgot to buy it at the market the day we cooked this recipe (oops!) so you don't see it in our picture above. If you can't find it, just leave it out.
Rice which is a bit dry works best for frying. If your rice is too wet, try leaving it uncovered for awhile to let it dry out first.
Real Thai Recipes
10:25 am