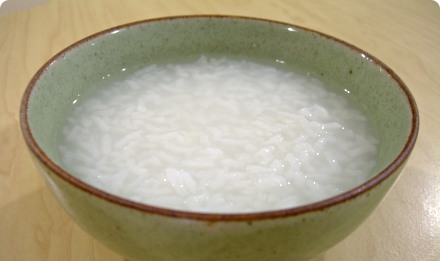 Rice Soup
Rice Soup is a Chinese-Thai thing… It's eaten for breakfast or late-night meals. Rice Soup is an excellent thing to eat while sick. If you've got the cold or a flu, or even an upset stomach, rice soup will make you feel better! You eat this with a variety of small strong flavored dishes. Hopefully I can post some of those recipes soon.
Ingredients
Directions
Boil the water & rice together in a pot on high for 3 minutes, then simmer for 20 minutes. Stir every 5 minutes or so, or the rice will stick to the bottom of the pan.
Make sure to skim off the skin on the top of the water before stirring.
Note:
Rice Soup goes well with Thai Pumpkin with Egg. It can be kept in the fridge overnight, but don't keep it for longer than 2 days.
Real Thai Recipes
10:31 pm